Could you please provide an MA?
ME: 56 y.o., 5'7", 148#
SKIS: 170 cm Head Mya 7, R = 14.3 m (same sidecut as iSS Speed), 3 mm delta, boot position -2 mm, 0.5 base, 3 side.
BOOTS: Dalbello Scorpion SR130, 1.5 degree zeppa; no sole modifications, but during these videos I had 0.5 degree outward cant shims on the brake treadles of both skis.
Footbeds checked by HSS, but boots are new, so alignment analysis is welcome!
There are four clips I've uploaded to vimeo (password is "PMTS"). In each case the clip is immediately followed (on the same video) by a 1/4 or 30% slow-mo version. The slow-mo really helps here, since the full-speed clips suffer from some camera shake. [If you'd like me to append 10% slo-mo, let me know.] Note that these don't conform to PMTS MA video standards, but they're the best video quality I have (in my new boots). All videos were done under Chair 2 (Stump Alley) at Mammoth. For best viewing, make sure the "HD" at the bottom of each video is in blue.
PHANTOM JAVELIN, GREEN SLOPE (to test alignment and balance)
ONE-FOOT STRAIGHT RUNNING, GREEN SLOPE (to test alignment and balance)
FIRST FREESKI VIDEO, BLUE SLOPE
SECOND FREESKI VIDEO, BLUE SLOPE
SELF-MA:
PHANTOM JAVELIN: left turn looks good; I'm a little back during the right turn — need to maintain better contact with left boot tongue
ONE-FOOT: balance seems a bit better on right foot than left
FREE SKIING: What's most fun for me is to ski dynamically, getting energy out of each turn, but the risk with dynamic skiing is that technique can fall apart -- extension, noisy upper body etc. So here I'm skiing moderately dynamically while trying to maintain flex-to-release (since extension's been my strongest bad habit) followed by continuous tipping (I've had a tendency to abandon tipping after the transition). In the first video think I generally (with a few exceptions) flex the old stance leg, but I'm not sure if I'm sufficiently delaying extension of the new stance leg. In the second video there may be more frequent extension of the old stance leg.
An experienced PMTS student observed that, in the transition, my inside ski flattens (as opposed to staying on the LTE) when I transfer weight to it, so I may want to work on maintaining that LTE for an additional ski length or so, to delay my getting onto the new BTE (thus helping the inside ski to stay ahead of the outside in tipping).
During these particular turns I wasn't working on NSPP, CA, CB, or keeping the inside foot back, all of which need improvement, particuarly the latter. I do some work on these separately, but as I get better at controlling extension without having to thing about it I'll be able to shift my primary focus to these.
Finally, here are two montages (15 frames/sec) showing the approach to the apex followed by the release. In each, countering seems to build too late, and then does not reverse quickly enough after the release. [Though, particularly in the first set, I do like how the ski is bending, the strong flex-to-release, and the strong phantom initiation in the next-to-last frame.]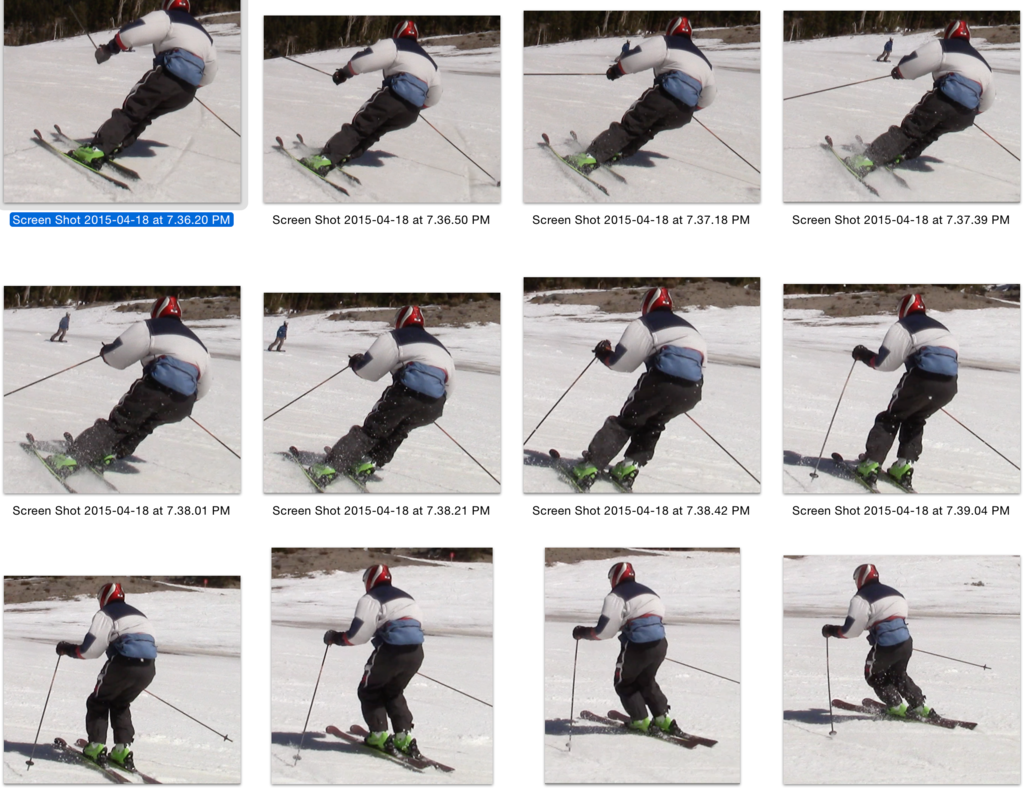 Thanks!